2017 Class Championships Report
Student Center on the campus of St. Louis University. It is the first tournament of its kind to be held at SLU, but unlikely to be the last as the university has embraced chess with a passion. The University started a chess team in 2015, and it is already a top notch program. Under the watchful eye of coach GM Alejandro Ramirez, the team has already qualified for the collegiate chess final four.
Players squared off in 8 separate categories; Master, Expert, Class A, Class B, Class C, Class D, Under 1200, and a one day novice event for Under 1000.
Grandmaster Priyadharshan Kannappan (2595), scored 4.5 to win the Master section. It is the first time he has played in the state Class Championships despite competing for Webster's Championship winning University team for several years running. GM Kannappan attended the event as a warm up for a grueling schedule of events ahead. " I have a bunch of tournaments coming up", he said, "I wanted to test out some new openings" The GM is planning on playing in six tournaments through Mid-August, including the Aviator Open in Dayton and a 10 player closed tournament, among others.
Benjamin Shoyket (1963) (pictured left with TD), scored 3.5 to win first place in the expert section. With a single loss to GM Kannappan, and a draw to Susanna Ulrich, Benjamin "played up" and scored several upsets to be able to grab the section championship.
Will Nesham (1950) (pictured right) won the Class A section with 4.5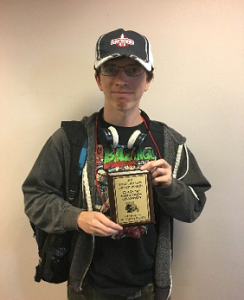 points. Will's performance was so dominant, that his only draw came against Iris Zhou (1894), who ended up taking clear 2nd in the section. Nesham said the tournament featured a change in his opening selection. "I actually played some queen pawn openings and I have never played queen pawn in tournaments. I played online to get practice in case of transpositions. I want to play d4, but I really like e4", he said.
Coming in just behind Nesham in the Class A section was local Iris Zhou. Zhou credited her success to following her instincts. "I was trusting my calculations", she said. "I also worked on my openings. In my games in this tournament I worked on paying more attention to my pawn structure."
Aleksey Kazakevich, (1777) won the B Class State Championship with 4.0/5.0. After winning three straight games on Saturday, Kazakevich held on to his lead Sunday with two hard fought draws. The victory boosts him back in Class A. "I've been doing tactics every day for the last five months", he said. "I beat Paul Goddard thanks to tactics. It was looking completely drawn but I was able to find something."
Also notable in B class was 2nd place finisher Kevin Banas. Kevin entered near the bottom of the rating chart at (1554) due to playing up. His 3.5/5 effort gave him a share of 2nd place money and nearly 100 rating points!
Chris Shelton, a second year law student at Mizzou, broke away from his studies to play
some chess, and took home the Class C plaque and title. After a first round draw, Chris (pictured right), ran off four consecutive wins to end 4.5/5 and take the title. "I've been studying openings a lot lately", said Chris, "and didn't get any of them on the board this weekend!" One of his games featured a rare, under promoted knight, that pulled a losing game back to even. He went on to win that game on his way to the title.
Matthew Manley (1508) took clear 2nd in that section. Matthew sat in a tie for 1st going into the last round, but a family event meant he had to accept a planned 1/2pt bye and leave his final standing to fate. While it cost him the chance for the state title, his final score of 4/5 remains something to be proud of.
The Class D tournament ended with the most drama. As the final round started, literally all 6 players in the round robin section still had a chance at a prize! It would be Randy Engleby (1205) from Kansas that ended up atop the pack. Randy enjoyed the 1st place prize money, but as he wasn't a Missouri resident, the State Title remained up for grabs. Ken West (1200) and Anuraag Pujari (1030) ended with 3 points each and were named Co-Champions for Class D. Ken West (pictured left), got the honor and glory of hoisting the plaque, as his tiebreaks and head to head victory over Pujari granted him the hardware.
Vishnu Aran of Columbia (pictured right) won the final
section in the two day main event. With 4.5 points, he boosted his rating from 1112 to 1239 while grabbing the Under 1200 title. Jacob Sanders, one of the lowest rated players in the section, came from the bottom of the rating chart to score 4.0 and gain over 100 rating points and the 2nd place prize money as well.
The Missouri Chess Association also hosted the one day Novice Championship. This shorter time control event was perfect for new and lower rated players looking for serious tournament chess against equal competition. The section drew 43 players, including an amazing 17 new players! We hope many of those go on to play in future events around Missouri.
The section ended with two perfect scores. Joshua Fundler and Jason Woolem each ended perfect, with 4/4. Fundler improved his pretournament rating of 989 to 1054, while Woolem jumped from 998 to 1036. Both players earned the Missouri Novice Championship title, but it was Fundler who got to take home the plaque thanks to better final tiebreaks.